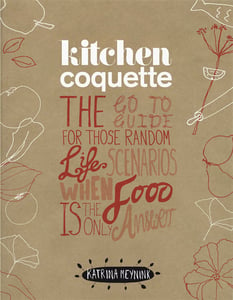 $

39.99
Kitchen Coquette is a cookbook that will make you smile. It will feed 10 hungry friends, the man of your dreams, your lovely gran; even providing a bite to eat for all those inspired in-between moments.
This is the cookbook for those times when food is the only answer - its' the recipes with the context. It is important to know why you are cooking – who it is for, why it suits the occasion and to embrace the failures just as much as the successes.
This is not a breakfast, lunch, dinner format – this is a cookbook that knows what you cook to fortify the soul is vastly different to what you might cook to impress a first date. It's a cookbook with some lifeblood… one that is funny, real, approachable and challenging. A cookbook that make you feel surges of culinary awesomeness. A go-to guide that gives you a sense of achievement, while embracing all those tear ruined, sweaty palmed and swear-word fuelled moments of life. All while providing the dish that suits.
For a sneak peak and more information, visit thelittlecrumb.com.au/cookbook.